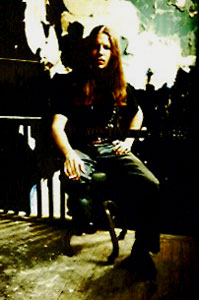 Band Name:
Lamb Of God
Interviewed:
Willie Adler
Interviewer:
Date:
2005-10-10
Previous Lamb Of God Interviews
Lamb of God have recently wrapped up a succesful tour headlining this summer's Sounds of the Underground tour, where they joined some of metal and hardcore's best bands to bring heavy music to the hungry fans in the US and Canada. Prior to the tour, they had been out on the road for a good part of two years, being both a support and headline act, while enjoying their highly acclaimed Ashes of the Wake and the recent release of Killadelphia, the DVD, which gives the viewer an inside look at the band, both on-stage and off.
Undoubtedly, Lamb of God are one of the hardest working bands in the biz, and it is apparent that they will take the momentum of their recent successes in both and roll it into the next phase of an incredible work in progress. It is apparent, however, that their real concern and ongoing appreciation is for the fans. A band cannot live on self-propulsion alone, and this band, which was once called Burn the Priest, remembers where it came from and takes care of its own.
Willie Adler, Lamb of God's other lead guitarist, takes a few minutes with me to sit out on the grass behind the stage, pre-show, to talk about a few topics, the most important of which is, and has always been, the music.
The Gauntlet: Hey, when do you take a break, if ever?
Willie Adler: We're actually breaking after this tour. We're going to come home from this tour and be home for a few months before we leave for Europe in December, and we'll be back for the holidays. We're planning on working on new material while we're home throughout this little break, so we're trying to get material for the record together.
The Gauntlet: You've been out for a good two years, haven't you?
Willie Adler: We've been out solid between doing the records and touring immediately after. Yeah, it's about two years. Hard at work, man.
The Gauntlet: How does it feel to be headlining this tour with all these heavyweights?
Willie Adler: It feels good. It feels like we're pulling our weight. It feels like, you know -every night that we get up there we realize the caliber of bands that are on this tour and we really have to step it up. Everybody on the tour is so fucking good that since we are playing last in the "headliner's position" we've gotta really put it all out there to make ourselves stand out, and I think that it's forced us to become the headlining band. And not to toot our own horn, whatsoever, but it's really done wonders for us as far as putting our show together and becoming as professional as we can be.
The Gauntlet: And you can be a big arena band and a stripped down club band.
Willie Adler: We can be both.
The Gauntlet: This last tour with Slipknot, where you were banned from playing The Forum here in LA, for whatever reasons, fanatical reasons...
Willie Adler: Ridiculous reasons. Ridiculous LA reasons.
The Gauntlet: In San Diego [as in many of the dates on the Subliminal Verses tour] you didn't get a soundcheck prior to Slipknot, so even though I think you had all the equipment there. I think you were stacked, but I think the fact that you didn't get a soundcheck you didn't get the optimum sound for that big arena.
Willie Adler: We have come up throughout the years of touring that we've done …we've come up in the scene where we've taken tours where we haven't gotten jack shit. We became that band where,"You know what? You're not gonna give us this, you're not gonna give us this, we're still gonna fuckin' blow you away, and we're going to do ot as ramshackle as the position you put us in calls for." We're just gonna make it work and still put on a fuckin' awesome show. So, we came up in that scene. We went on tour with Gwar, where they had so much shit in a club venue type setting. We didn't have shit. There were some shows betweet that tour and the Cannibal Corpse tour with Dimmu Borgir where we had to set the drumkit up on the ground in front of the stage or security guards were holding the cymbals, you know …we had nothing. So, we're used to being treated like dogs and we're used to being the underdog. Now we're getting to a position where we can dictate a little bit to where our sound is and how the monitors are run and how shit onstage should sound, so it's a flattering position to be in and it's really nice that we get that now because we have come up from …pretty much being treated like shit.
The Gauntlet: It was like a "less is more" type of thing. You guys adapt. I had a few words with Randy after your San Diego show walking to the bus, and he asked me if I would be at Pomona the next night, because he said you guys were going to rip. I went and you played a longer set, and it was an incredible show.
Willie Adler: Oh, yeah, that show was unbelievable.
The Gauntlet: The energy there was frenetic. It was so hot in that fucking room. Now, you guys are here and it's incredible, but at the same time I would have expected it. You're getting your due now from the Burn the Priest days right on up to now.
Willie Adler: Right.
The Gauntlet: You play Framus guitars?
Willie Adler: Yes, I endorse their guitars and I endorse their cabinets and I endorse Mesa Boogie amplifiers.
The Gauntlet: I saw the Killadelphia DVD. It gives a total inside look into you guys.
Willie Adler: Oh, yeah. We didn't hold anything back. Even though some of us in retrospect wish we could've. It's just the way it is -it wouldn't have been the same had we not included everything.
The Gauntlet: The part in Scotland, where Randy took on the Scottish brogue and just kept fucking with you guys,,,
(laughs)
Willie Adler: He got called out!
The Gauntlet: You had to just arrest it, you know? With all that tension of being together constantly, touring, it's like a pressure cooker, it seems like in the end those kind of things just turn out for the better.
Willie Adler: It is like a pressure cooker, like you said, and you gotta release the steam for the pressure to go back down. That's just one of those things that once it was over-- everybody was a lot more relaxed and we could start again. It just had been building up, building up and it'll build up again. Who knows what'll happen next time, but we've all been bros and we're family, you know? We love each other, so there's nothing that we can't get past.
The Gauntlet: I get the idea that your brother, Chris, is the more pensive one, the more focused and more driven one, where Randy …he pretty much speaks for himself. You're the cut-up, the goof off. Mark's the recluse. John is funny as hell. It seems like a good working chemistry with these personalities. Has there been any blow ups on this tour?
Willie Adler: No. Nothing that is noteworthy. A few of us …we've all play the fool some nights … so it's how it goes, but nothing that was crazy.
The Gauntlet: Does Boz, Lamb of God's tour manager, play Dad?
Willie Adler: Boz likes to think he plays Dad. No, we love Boz. Boz does play Dad -he does a good job at it. Boz is an awesome dude to have.
The Gauntlet: Are you going to keep the same people for the production, on your new material?
Willie Adler: I don't know. I think all of us would like to keep the same producer, Machine, but I'm not sure that he's gonna be wanting to sign on to the project. I think he's had his fair share of metal, between our record and the Every Time I Die record and Clutch. I think he might be done with metal, I don't know… I don't want to speak for him. We would love to go back and work with him, and as far as people coming in and playing or guest appearances from people, I'm not sure yet. We really haven't …since we have ben doing so much more, we haven't had time to set aside for writing. I mean, I'll sit in my house and Mark will—vice versa—and we'll write shit, but when we've gotten back together in the space between tours, it's always going to be the work on the set that we're going to be going out on tour with.
The Gauntlet: Chris Poland of Megadeth helped with the guitar duties on the last record.
Willie Adler: Yes, he actually did the last two records and Alex Scholnik worked with us on Ashes.
The Gauntlet: I make a comparison to you and Mark Morton as a Mustaine and Friedman kind of duo, you know, that kind of interchange …
Willie Adler: That's awesome! (laughs) Which one is Friedman and which one's Mustaine?
The Gauntlet: It's an "on a given night" thing. (laughs) I've seen you guys a couple times now and sometimes I want to know where the sound is coming from, not just from where you're at on the fretboard. Who's doing what, you know? I think the way your band is put together that even if some channels were blown out on your equipment, you would still come across.
Willie Adler: The show must go on, man. Those kids are still there and they don't think anything's wrong, and we don't want to let them think anything is fucked up. We wanna give them their 25 bucks, 30 bucks worth, or however much their ticket costs …give them a fuckin' show. You know what I mean?
The Gauntlet: You'll do an hour set tonight?
Willie Adler: We got about 55 minutes, I think,
The Gauntlet: Can we expect "Laid to Rest" as the opener?
Willie Adler: Of course.
The Gauntlet: Who do you want to see the most on this tour? I know you've seen everybody.
Willie Adler: I have, but there are bands that stick out. I love High on Fire. I love their fuckin' attitude and I love what they do …just fuckin' "Here we are …" I just love it. I love what they do. Every Time I Die -those are my boys. Unearth, of course, are fuckin'maniacs. Throwdown …so many bands that stick out.
The Gauntlet: I heard Madball when I came in.
Willie Adler: Madball's good, man. Everybody is just holding their own weight on this tour and doing a great fuckin' job. Devil Driver, every single day. Amazing.
The Gauntlet: You're not just camping out in the tour bus.
Willie Adler: No, it's a huge family event. I mean, a lot of these bands that are here we know and have toured with, like Devin, from Strapping -he was our producer on Palaces [As the Palaces Burn]. And Gwar are friends of ours from back home. It's a huge family vibe. There's no real politics, and we all just get here and hang out and do our thing and support each other in what we do. It's really, really cool, man. It's a whole different vibe from any festival I've been on -as far as everybody just being down-to-earth, laid back and cool with everybody else.
The Gauntlet: A lot of barbeques and community.
Willie Adler: A lot of barbeques... yeah, absolutely. A lot of people hanging out on everybody else's busses, pulling practical jokes and shit like that.