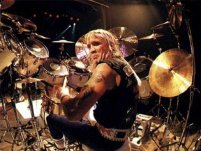 Band Name:
Iron Maiden
Interviewed:
Nicko Mcbrain
Interviewer:
Date:
2006-09-27
Previous Iron Maiden Interviews
The Gauntlet: What is going on?
Nicko: I just finished my work for the day and I'm going to go down to the pub and get blotto'd. I don't drink anymore, but it is just stress [laughs].
The Gauntlet: The North American leg of the Iron Maiden tour starts next week, are you already in the US?
Nicko: No. We just finished our last rehearsal about an hour and a half ago. Everybody has kind of burrowed off and we are getting ready to head state side to start the tour next week.
The Gauntlet: Will this tour have a big production?
Nicko: Oh yeah, always. Well I shouldn't say always, there was that stint where we cut back in the 90's. But this will be a big production. Eddie will be there in full force.
The Gauntlet: Iron Maiden has Bullet For My Valentine opening in the US?
Nicko: Yes, we have Bullet For My Valentine opening for us in the States and Trivium for the European dates. I don't know who will be opening for us for our Japanese dates, but it will probably be Bullet For My Valentine I would imagine. I saw those guys last year and I thought they were pretty good. They were quite interesting. What I like about when we go on tour is that we get these bands out with us that I have no idea what they sound like and it is always exciting to me. I just stand on the side of the stage and have a peak to find out what is going on in the world.
The Gauntlet: Are you familiar with Trivium?
Nicko: As long as the drummer isn't better looking than me they are alright [laughs].
The Gauntlet: I think you might be in trouble there, all the girls like Travis. He plays with his shirt off and has lots of tattoos.
Nicko: Awww, freaky showoff!
The Gauntlet: The guys in Trivium keep making the drummer add to his kit so the girls can't see him.
Nicko: That's what happened with us and why I have such a big drum kit. The boys in the band want to keep me hidden behind it.
The Gauntlet: Why such a small handful of dates in the US and Canada? Canada gave you a #2 album and the US fans delivered the band its first top 10 Billboard debut.
Nicko: It is unbelievable and I gotta say thank you to everybody and the old and new fans. We have to have some new fans. I think what had happened was we decided to do a relatively short tour. The tour was setup before the record was released. We are trying not to second guess that after the album was released. We will just go out and do the three shows in Canada, eight in the US, then five in Japan and the European dates up till Christmas. There is always next year. We never said we are going to do just these eight shows and spend the rest of the time everywhere else. With the success of the album, I think we make some jolly swift across the Atlantic and play some more gigs. The wonderful thing about this band is getting new fans. We have the moms and dads who grew up with us and have all the albums. Then their kids get into us and borrow the album from mom and she tells them to go buy their flippin' own. We are very blessed to be able to play the live shows with all the stuff we have. A lot of fans want to know why we release so many live albums. It is because the fans want it. Our old albums weren't digitally made, but we have gone through all that now. A lot of fans also want to know we are still active. So we get something like a little teaser to put out. Our plan is to do a few festivals next year, not too many. Then in 2008, we have plans for another album. As long as the good Lord blesses this band, we'll put stuff out. So don't any of you young drummers start sending in auditions to take my gig.
The Gauntlet: No fault of your own, but Iron Maiden owes me a show. I was at the Ozzfest gig in San Bernardino when you were egged and I'd like to see the full set with none of the crap.
Nicko: Oh, you were at San frickin' Bernardino? That was very disgraceful. You don't do that to anyone. If the band is professional or not, you just don't do that. Even if they sound bad, you just pull the plug and say you're done. There was just no reason for that. I can honestly assure you that you will have a great time. We are very excited and it will be a wonderful show. I haven't even seen the stage setup yet. When it was setup in England, I was in the US. My friend sent me a stream of it, but I am on dialup and it would have taken me a week to see it.
The Gauntlet: So you don't know what Eddie will look like this tour?
Nicko: I don't! I have seen him in the flesh though. I do have new drums that I will be using this tour. I am very excited to finally see it this Sunday.
The Gauntlet: How does it feel to be 23 years and 14 studio albums into the band and still not only going strong, but breaking records and gaining popularity?
Nicko: It's quite an amazing story mate. It is a blessing and I think that by today's standards by I think when you have a bit of quality you tend to survive. That is where Iron Maiden has excelled, good quality, good performances and true to the original feelings. That is why the band started when Steve [Harris] formed it back in 1975. We have a lot of energy still and we aren't just a bunch of old farts. In my opinion, we just made the best record since I have been in the band. That's 11 studio records for me. I think 'A Matter of Life and Death' is the best, that's my personal feelings.
The Gauntlet: There seems to be a new energy with the band.
Nicko: Yeah, that is true. I put that down to a couple of things. We are like a fine bottle of red wine, we mature with age. We are kinda getting things right. Not to say we didn't have it right earlier, but back then we were a bit more raunchier and gung ho. We have a bit more maturity now in the playing. Everybody has been playing a lot more now and everybody really has the passion to carry on. I think the standard of excellence has really raised the bar. The writing on this album has really improved. Each time I hear the album, I have a new favorite track. I think right now my favorite is "Lord of Light." It is still as edgy as everything else and has a lot of progressiveness. There are a lot of breakdowns in the songs on this album and remind me of a lot of the bands I liked and grew up with in the 60's and 70's. I think there is a lot of this on various tracks. It was a sublime deal though and we weren't consciously trying to put some prog-rock here. There are a couple of factors that stand out heads and shoulders above the rest of them.
The Gauntlet: Was anything done differently?
Nicko: We used Kevin Shirley again for this record. It is his 3rd studio album with us. He did Brave New World, and Rock n' Rio. He was the 7th member of the band and that is very important when you got a guy behind that flippin' grey spaceship of a desk flipping knobs and making what comes out of the speakers. What I think really set this album apart from all of the others was we wanted to go for more of a live vibe. We have always tried to do this on the albums by getting the tempos out on how we would play them and that sort of thing. We would concentrate on making sure things were right. On this album, we rehearsed it different with the exception of "Longest Day" and "The Pilgrim". We did "The Pilgrim" after "Longest Day" and we switch the order. The running order was rehearsed as was recorded except for those two tunes. As we rehearsed, we recorded the demos and put it to bed. Rather than the old days when we'd play the first song, then learn the second, play it and learn the third and so on. We didn't do that. This time we just learned a song, put it on a tape then we have it so we could learn it thoroughly as we were learning the new stuff and that was a nice way of doing stuff. We did it in the studio as it was being rehearsed with the exception of the two songs. Kevin mixed the album as we recorded it which was a totally different way of doing the album. The last two we did with Kevin, we'd sit down after we did the backtracks and Steve and Kevin would then mix the album. That was a big difference right there. This album has a much more live feel to it than anything we have done in the past.
The Gauntlet: It really shows, the album is amazing.
Nicko: I think the guys have surpassed themselves. My approach to this record was much more musical. What I mean by that is I put a lot more thought and effort into what I wanted to play on each track. This album, I was given a lot more space to do that. In the past, whoever wrote the songs would say this is the kind of tuning and drum flow I want. This time I was pretty much given free reign. I just had a lot more freedom in playing and musicality than in the past.
The Gauntlet: I assumed after the "Dance of Death" album you'd contribute a lot more to the writing.
Nicko: So did the guys. When I came over for the rehearsals for this album, I came in three days before we went into the studio. What happened prior to my arrival in London was the guys were getting together with Adrian, Dave and Bruce and sent stuff over to Steve and I didn't do that. These 10 songs on the album were all written before I arrived. When I arrived, Steve and I were seating in the rehearsal room alone and he said to me 'We have ten songs already, Adrian has a couple and Bruce has a few. Oh, by the way, do you have anything?' I said as it happens, I have 1 written and a melody written for another he he said 'Oh, we have 10 songs ready to go, we have too much material so we'll leave it for the next one.' So that's the reason I don't have anything on this album, not because I didn't get off my fat ass and do something which is quite unusual. We didn't get to my songs or the ones the rest of the guys had brought in. We had these ten songs that were such strong songs. This is the longest Maiden album to date. People were asking why we wrote so many bloody long songs. We don't. Those aren't long for us. It is just the way it is for us. We don't consciously think about a song is too long and we need to chop two minutes off to get a song on the radio. We aren't played on the radio so we don't need to compromise. A couple months ago we released 'The Reincarnation of Benjamin Breeg' and it doesn't qualify for a single chart position as it is seven minutes long. Our manager said we are still going to release it even though we wouldn't get chart position. It isn't about chart position or anything commercial; it is about quality and song strength. Our label was fine with that too. They know we do things without compromise and if we don't get our way we'll bully them into submission.
The Gauntlet: At this point I think Iron Maiden deserves to push its weight around a bit.
Nicko: Please don't get me wrong, I'm not trying to sound conceeded as it is not meant to be like that. We have had the opportunity to be in that fortunate position because we have been around so long and we make the records we do. We have been able to stick to our guns and we have been very fortunate. Today a lot of the young bands still have to maybe do the compromise, well not maybe, they do. They do have to make certain sacrifices a lot of the time. 95% of the time when you do break through, you do get your artistic license.
The Gauntlet: The lyrical content on "A Matter of Life and Death" flows together and tells a story, but I have heard you state that this isn't a concept album.
Nicko: You are right Jason. That is interesting though. My take on whether it is a concept album is from the musical point of view. I never think of an album as a lyrical concept album. It is a life experience record. You might not have been around when the atom bomb was built, but it is a life experience because it effects us all today. "The Longest Day" was a battle. There was a young man going into hell with all the bullets and crap in this D-day invasion with a Normandy landing. We know how all these troops went in like in [Saving] Private Ryan. There really wasn't any preconception to this. As we rehearsed the songs, we rehearsed the songs in order but on the album we flipped two of the songs around to make it flow better musically. This is why I think it is more of a conceptual album musically. I can honestly assure you that it is not lyrically a concept album. It certainly does have a wonderful fluidity to it and has a artistry to it. The silent parts have this artistry to them. They way Kevin [Shirley] sat with Steve [Harris] and worked out the little gaps between each song. The silence is so much a part of the song and the actual music to me. I am very excited about it. It wasn't actually set out like that.
The Gauntlet: I understand you recently recorded a few cover songs.
Nicko: We did. We always record cover songs. We used to call them B-Sides as we'd stick them on the 2nd side of the record with the extra tracks. But we did a bunch of covers and we had such a good time doing them as well.
The Gauntlet: You actually sang on the cover song to Focus' "Hocus Pocus", how was that?
Nicko: [laughs] No, I didn't sing. You can't call that singing mate. That was actually horrible singing what I did. They actually had me do the breakdown and yodeling. When I hear it I cringe. Everyone gets a laugh out of it. We didn't even dub the guitar.
The Gauntlet: Focus is famous for singing in falsetto. Did you attempt the higher range?
Nicko: No, no. [laughs] [Nicko then lets me hear his falsetto and I see what he is talking about] I didn't do that. Absolutely not.
The Gauntlet: What do you attribute the bands relatively stable lineup to?
Nicko: You get a fine tuned car. If it is not busted, you don't need to fix it. When it does, you might have to replace parts to fix it. We have been together for eight years in this format. We have this fantastic and stable unit where everyone is excited. We are still like little kids. I think that when you have the passion and the true motives why you play an instrument and why you play in a band, you can't lose that. The realities of finance and fame are what destroy the bands. So many bands today are just bands for this reason and they don't have that passion. I attribute it to that we still love what we are doing and we are selfish people. We are selfish when it comes down to what we do together and the way we do it.