Crud Bio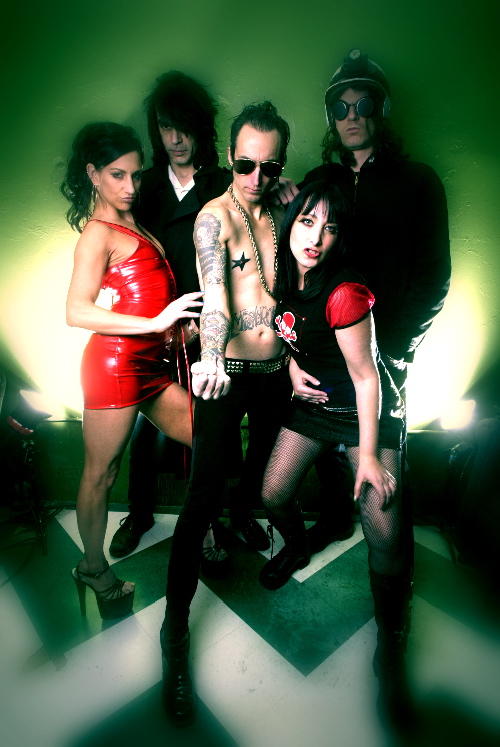 Band Members
Vin Dombroski - vocals and gas masks
Danielle Arsenault - Vocals and Whips
Dana Forrester - Bass and Boots
Eric Hoegemeyer - Drums and Skins
David Black - Guitar and Noise
Super-charged fetish rock complete with gas masks, bikinis and blood. Crud's wicked guitar hooks and enticing vocal melodies taunt and seduce you into surrender. Crud creates sights and sounds that linger. Think Fight Club. Think A Clockwork Orange. Think you\'ve seen anything like it? Think again. Revved up industrial-fueled rock, laden with nasty guitar riffs, crunching electronic beats and taunting vocals. It\'s White Zombie meets Easy Rider - audio crack for deviants.
Crud's debut CD DEVIL AT THE WHEEL (Full Effect Records) features fiendishly addictive tracks that have been the soundtrack of choice for numerous television shows including CSI, ER, Burn Notice , Knight Rider, E!: Emmy Awards Show, HBO\'s: The Bunny Ranch, VH1\'s: History of Metal and Celebrity Fit Club, MTV\'s: Cribs, Live 8, Date My Mom, and Girls Gone Wild Uncovered, Sci Fi channel's: Hulk The Low Down, The Playboy Channel, and video game Test Drive 2. Comedy Central's "The Showbiz Show‰ star David Spade built an entire skit around Crud's first single "Reality.‰
\"Reality\" (Bang, Bang, Bang!) has enjoyed massive TV exposure -and is currently A&E\'s theme song for \"CSI Wednesdays.\"
"All Used Up‰ also from Devil at the Wheel will be featured in the new Ray Liotta/Andy Garcia movie "La Linea‰ premiering in October 2008.
Live Crud delivers an intoxicating and provocative rock show like none other. Fronted by Vinnie Dombroski (who the Austin Chronicle calls one of rocks most mesmerizing front-men) and burlesque beauty Danielle Arsenault, Crud grinds out a visual and aural assault that leaves you begging for more. Band mates David Black (guitar), Dana Forrester (bass), and Eric Hoegemeyer (drums) set the stage ablaze with delicious gritty decadence.
In 2007, Crud headlined The Whitby Goth Fest and toured the UK including London and Newcastle. The band was a featured performer at Rue Morgue Magazine\'s \"Festival of Fear\" with George A. Romero (Night of the Living Dead) in Toronto.
Crud was recently spotlighted in Spin, Bizarre UK, Metal Hammer, Girls and Corpses, PRICK, Muen and The Metro Times magazines.