Rage Against The Machine Bio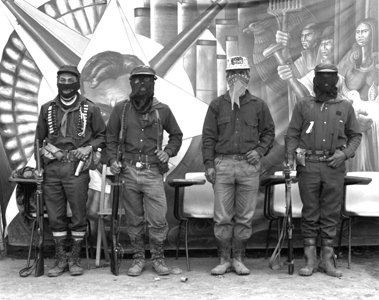 Band Members
Vocals - Zack De La Rocha
Bass - Timmy C.
Guitars - Tom Morello
Drums - Brad Wilk
Rage Against the Machine earned acclaim from disenfranchised fans (and not insignificant derision from critics) for their bombastic, fiercely polemical music, which brewed sloganeering leftist rants against corporate America, cultural imperialism and government oppression into a Molotov cocktail of punk, hip hop and thrash. Rage formed in Los Angeles in the early '90s out of the wreckage of a number of local groups: vocalist Zack de la Rocha (the son of Chicano political artist Beto) emerged from the bands Headstance, Farside and Inside Out; guitarist Tom Morello (the nephew of Jomo Kenyatta, the first Kenyan president) originated in Lock Up; and drummer Brad Wilk played with future Pearl Jam frontman Eddie Vedder. Rounded out by bassist Tim Bob (a.k.a. Timmy C), a childhood friend of de la Rocha's, Rage debuted in 1992 with a self-released, self-titled 12-song cassette featuring the song "Bullet in the Head," which became a hit when re-issued as a single later in the year.

The tape won the band a deal with Epic, and their leap to the majors did not go unnoticed by detractors, who questioned the revolutionary integrity of Rage Against the Machine's decision to align itself with the label's parent company, media behemoth Sony. Undeterred, the quartet emerged in late 1992 with another eponymous release, which scored the hits "Killing in the Name" and "Bombtrack." After touring with Lollapalooza and declaring their support of groups like FAIR (Fairness and Accuracy in Reporting), Rock for Choice and Refuse & Resist, Rage spent a reportedly tumultous four years working on their follow-up; despite rumors of a break-up, they returned in 1996 with Evil Empire , which entered the U.S. album charts at Number One and scored a hit single with "Bulls on Parade."