Next Season Bio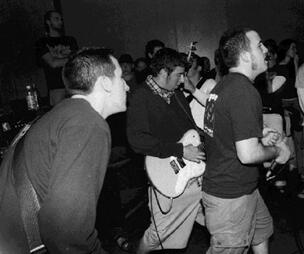 Band Members
Danny Delpurgatorio - guitar/vocals
Bill Demarest - vocals
Thoranium X - drums
Dan Byers - bass
Rob Foster - guitar
During the spring of 1999, longtime friends Danny DelPurgatorio and Thor Parker decided to start a newly fashioned band that would differ from their previous ventures. Throughout the past five years, Danny and Thor, on many different occasions, have toured with such bands as The Simpletons, The Shrinky Dinks, Different Strokes, and The Fairmonts. The "pop punk" sound of these prior bands was of a genre that Danny and Thor were striving to break away from. They began to assemble many different ideas and soon thereafter they recruited newcomers Bill Demarest on vocals, Rob Foster on lead guitar, and Thor's former band mate, Greg Thacker on bass. The group began to combine all of their different musical influences, which helped provide them in the creation of a heavily energetic rock sound that they couldn't quite describe.



After intense practice, summertime rolled around and they were offered a show with a Kung Fu Records band The Ataris. Being their first show, they were extremely weary on whether the crowd would like or even understand their creation. The audiences reaction ended up being quite extensive, providing Next Season with the stamina to carry on. An audience member later that night wrote and posted an online review, describing the capacity of their first showcase. "The force of Bill's emotion-filled vocals, the pounding rhythmic barrage of bass, and the rhythm guitar was enough to plaster any mild mannered music fan's face to the floor. The lead guitar was in perfect harmonic bliss the whole time, creating haunting melodies any guitarist would kill for and the drums fueled the whole apocalyptic sound, bringing everyone shivering halt."



After the success of their first show, Next Season has played with such acts as Discount, Pezz, All The Answers, Ensign, Bane, Dillinger Escape Plan, Aus Rotten, Against All Authority, Stavesacre, and Inspector 7 among many other. Several of these shows occurred during their first ever national tour, which took Next Season up the East Coast and back. Once the "Caravan of Courage" tour was over, original bassist Greg Thacker and Next season decided to go their separate ways creating a gap in the bands lineup. The hole was immediately filled by Digital Dan Byers, a close friend of the band.



Next Season is currently writing a handful of new rock tunes as the remain playing live to help support the release of their debut 8 song CD/EP entitled "A New Hope", which became available in May of 2000 through Big Car International. With plenty of previous experience, the members of Next Season look forward to sharing their emotionally energetic live show with others. They too plan on continually playing out, touring, and recording as much as possible in the near future. Their main objective still remains to assure that their listeners have as much fun watching them as they do playing. So keeps your ears open and your eyes peeled, Next Season is coming to rock!