Mors Principium Est Bio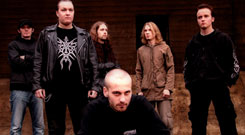 Band Members
Jori Haukio : guitars
Ville Viljanen : vocals
Jarkko Kokko : guitar
Mikko Sipola : drums
Teemu Heinola : bass
Joona Kukkola : keyboards
Subgenres
melodic death metal
thrash
MORS PRINCIPIUM EST was founded by Jori, Jarkko and Toni. Percussion instruments were missing, but later in that same year Mikko joined the band to play the drums, Jori played guitar and vocals, Jarkko and Toni on guitar and keyboards respectively.

Jorri wanted to concentrate on his playing and Ville joined in which resulted in the band's first demo recording in 2000. An active search in a bass player made Teemu joining the ranks of this yet to become talented new band in its full line up : MORS PRINCIPIUM EST. 2 more demos were issued and the debut album 'Inhumanity' was recorded in Finland at Tico-Tico Studios in December 2002. and mastered at Finnvox Studios in January 2003. Their music was refered as melodic death / thrash metal to put it bluntly eventhough their musical spectrum oozed larger musical influences.

'Inhumanity' got raving reviews in all the major metal press over the world. It was voted album of the month in Canada's BWBK magazine, reached number 10 out of 59 in ROCK HARD 's soundcheck (Germany), 17/20 in HARD ROCK (France), 5/6 in METALIAN France), 13/15 in LEGACY(Germany) among a large amount of extremely positive reactions. It clearly stated the fact that their writing style showed an outstanding band with a bright future. Many a journalist was astonished by the band's virtuosity which rarely appear on a debut album .

MORS PRINCIPIUM EST stood out by their songwriting skills and musical identity. They still do now with their 2nd assault ' the Unborn' which gathers the band's most mature material to date. It's also the band's most diversified and surprising songs. While heavily rooted in a much cherished Scandinavian style (SOILWORK, DARK TRANQUILLITY…) . In this new album, MORS PRINCIPIUM EST injected other modern elements and fresh rhythmical structures that are quite unexpected to the genre.

The band also kept their hard hitting dynamism and still retained the great atmosphere and the flooding amount of catchy hooks and solos appearing on their debut album and that have now become their trademark. 'The Unborn' was recorded during a 3 week stay at TICO TICO and mastered at FINNOX studios as well, and display the artwork of Mattias Norén (www.progart.com).