Through The Eyes of the Dead Bio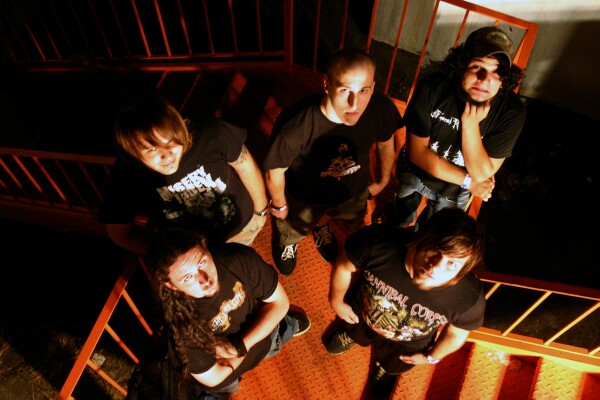 Band Members
Anthony Gunnels - Vocals
Justin Longshore - Guitar
Chris Anderson - Guitar
Jake Ososkie - Bass
Josh Kulick - Drums
Subgenres
thrash
metalcore
death metal
hardcore
THROUGH THE EYES OF THE DEAD will quickly remind listeners what it was like to live through the golden days of death metal, when American metal titans Morbid Angel and Cannibal Corpse roamed the land and At The Gates' Slaughter of The Soul was still newly-minted territory. Fast forward to 2005, and the band has created a fresh sound a decade later, although the band still utilizes the fundamentals that made new death metal records an exciting experience in the early 90s.

"We are a melodic death metal band with a touch of hardcore," says guitarist Justin Longshore. "I wouldn't describe us as a metalcore band, though, because we incorporate so many more elements that most metalcore bands don't." Ultimately, that is what makes this band one of the most exciting bands in a sometimes stagnant, overcrowded scene. Well, that and the fact that the band is always on the road…Always.

A non-stop road behemoth, TTEOTD is touring continually to support BLOODLUST, their full-length debut on Prosthetic Records, and will continue trekking across the country through December. "We wouldn't have it any other way," Longshore says with a laugh. "This is something that we love doing."

After releasing an EP in 2004 and a split CD with The Knife Trade in July of 2005, the band has new blood, including bassist Jake Ososkie of Arsis fame and Josh Kulick on drums. The two join guitarists Longshore and Chris Anderson, and vocalist Anthony Gunnels, who helps give TTEOTD its terrifying sound. With new members and a determination to bring their live show to countless cities across the country, BLOODLUST is an apt title for a young band on a quest to build a following one venue at a time.

Working alongside producer Jamie King (Between The Buried and Me, Glass Casket) for the recording of BLOODLUST, the band is ready to usher in a new chapter of death metal that is crisp but heavy, technical yet cohesive, and melodic but brutal, all at the same time. Most importantly, though, the band is ready to resuscitate the metal scene with BLOODLUST, a record that will undoubtedly make THROUGH THE EYES OF THE DEAD an undead force to be reckoned with.