Joey Belladonna Nearly Mauled By Dogs During Anthrax Interview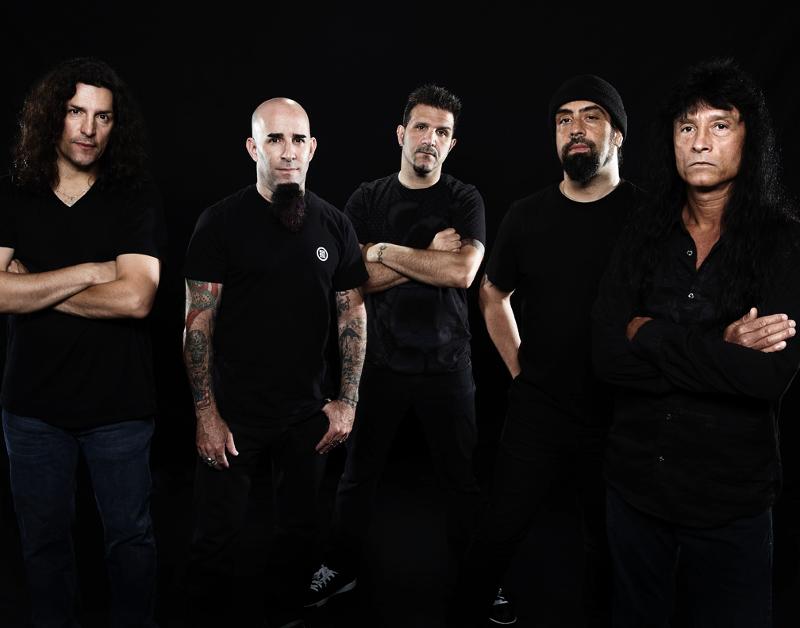 In a recent interview with Anthrax front man Joey Belladonna, The Gauntlet's own Keith Lovett asked about all things involving touring, tastes in music, and Anthrax's involvement in the Big 4. During the interview however, Joey's dogs got in on the action and started a huge four minute brawl, pinning Joey up against the door.

Anthrax will be headlining the side stage at this years Mayhem Fest which starts this weekend. Click here for dates and venues.


How are you doing?

Good thank you.

What has Anthrax been up to lately?

Touring like crazy

Why do Rockstar Mayhem fest tour?

Well we do have a headlining tour coming up in September and October. You get asked to do a tour and you just get in.

Why the decision to play the small stage instead of the headline?

I don't know. I am not sure how all that came about. I am sure that was the offer that was made. I don't know. Personally for me I don't have a preference at this point. We put on the same show regardless of what side we're on. With all the festivals we've been doing you go on one stage or another.

For a band that's used to playing massive festival stages, what will it be like to be playing the smaller Jagermeister stage? Will we see old school crowd movement?

I am sure there will be more crowd movement up there. There will be all kinds of scenarios. I don't know. Every day is going to be different. We won't know until we get there, I can only imagine.

How's worship music doing?

Good so far!

With the record doing well are you planning on staying on the road for an extended period of time or are there plans on writing again?

Like I mentioned earlier were going back out on the road taking Testament and Death Angel. Then December we'll be back in Europe again with Motorhead

A lot of the Anthrax tour lineups lately have been with established veteran bands, are there any plans on taking out a smaller band?

No plans at the moment, I mean we have this whole year to look forward to right now. We have not even done that, to even look at upcoming or new bands. It's only the end of June and we are looking at three tours yet. So, nothing really at the moment.

Worship music keeps with the classic Anthrax sound was that intentional or did it just happen like that?

I guess that's just the way the band writes. I mean that's just what we do. We have a style, we have ideas, we have influences. I mean fully in light of what we've done over the years. Me vocally I can speak that I didn't do anything different. I just went in there and focused on the song you know.

Anthrax has been around for almost 30 years and has been crowned by many one of the big 4 in heavy metal music, what does it feel like to have been given that title?

Hey man, we've been around for a while. Done our part for the music business and it seems to work out that way. I mean I don't know how to categorize number one, two three, four kind of thing but.. I know we have done our diligence in our music and life in our stand of Anthrax as a band.

After sharing the same stage with just about every major metal and rock band in history are there any bands that you feel were left out, or deserve the "big" title? And do you think there will ever be a super tour with bands like AC/DC, Black Sabbath or Iron Maiden?

Your guess is as good as mine, I mean hell just to put this thing together was great. I mean I don't know if I am even categorized as to who is one two or three and all that kind of stuff.

At this time I asked another question about the "big 4" shows and I started to hear barking. As I sat there on the phone Joeys three Rottweiler's began to fight and all I could hear was loud barking and yelling for the next four minutes. When Joey came back to the phone he was out of breath from breaking the dogs up. I continued from there with the interview.

Can you explain what just happened?

Wow! can I explain what just happened? I am out of breath right now. That was crazy. The two dogs were fighting and I was holding the other one while keeping the phone call on my shoulders. They had me pinned up against the door.

I give Joey a moment to catch his breath,

What kind of dogs are they?

Three Rottweiler's

Holy-Crapola!!

I mean I had the phone off and I lifted it up and you were still on there

Yeah, sounds like you had a major Mike Vick style dog fight going on there

Yeah, it just came up out of nowhere.

Do you breed dogs, are they just pets? You have three big Rottweiler's can you tell me about your
dogs?

Well the thing is the 2 females have not been getting along and then I adopted one and they just
didn't hit it off. I opened the door to downstairs and forgot to shut the gate and one came up. I was
wondering what the hell was coming at me. I didn't know the dog was behind me coming up the stairs I was like oh god.. ol!! That was intense.

I see your still trying to catch your breath. As compared to playing a two hour show which one is
harder?

Listen that was way more intense than any show I have ever done. That's like at any moment I could
have been fucking mauled. It's like a TV show or a scary movie you think its fake but then it's that.

What are their names?

I have Cody a girl, Buzz a boy and Isabel is another female. Wow! (Joey still out of breath) I took the
burden out of answering the question. LOL! That was the big 3.

LOL!

As a person who's been into your band from the very beginning I think it's amazing that you have been sort of titled as pioneers of the thrash sound and have been doing it for all these years. You have to know you have inspired thousands of metal bands over the years.

It's hard to hear it that way you know. I mean at the same time it's all the long work that we've done, and how we have influenced fans and bands that like our music is really amazing.

You seem very humble about the topic, again you have to know how many people have been influenced by Anthrax and what the band did to create the thrash sound and genre.

I mean we meet more and more bands every day that liked us or heard of us. You get that a lot now you know. Its amazing how many people dig what we did and what we do now.

What are the changes you have seen in metal from the early days to now?

I mean you can't buy anything anymore, that's the biggest change. The way you used to buy it. There are many changes as far as that goes. That's the big thing right there. It's the music business itself. The buying and selling of music is hard now.

Do you notice the change from being successful at a time when you could sell cd's and tape's to where someone can download your album for free in 1 min on the internet? Think about it, a person getting your new album that you have worked on for 6 months in one minute?

That's just the way it is. It shouldn't be that way because everybody has to making a living. We put a lot of time and money into what we do. You hate to just give it away. A lot of people buy and trade and they buy music still, I don't know. It's hard to fathom these days.

What is your opinion of the new internet where downloading albums is that much easier?

I don't know, you can't do shit about it.

So if Anthrax can't sell music anymore, what is the plan for the future?

I don't know, there's not much I can do you know.

Going back to the "Attack of the killer B's" era. Everyone in the band seemed to have a different personality. I never got that Joey Belladonna was into the rap music influence as much as the other guys. What was it like to be around those influences like Public Enemy?

I didn't really follow much of it so I didn't play that close attention to it. You know it was kind of unique and cool. It was a good vibe. Obviously it wasn't people playing a lot of instruments so that was a big difference. I got to see a lot of it, and did a lot of touring together. It was fun. I wasn't big on the scene because I didn't know much about it.

Who are you listening to now?

I just bought Clint and Morgan from Sevendust new solo album. I have been checking out some of this Radiohead stuff. I just like a lot of different stuff. I mean I just bought the new John Mayer. I listen to a lot of different music. It all depends on the mood I am in.

I cannot end this interview without asking what was it like to play Yankee stadium with the Big 4 line
up?

I mean that was incredible, it's something you never thought you would ever do. I mean they don't hold many shows in there. So when they do we might not be the band they would put in there, we just happened to be lucky. It's awesome no doubt, especially for the guys who live in New York you know?

Thank you for your time, and we will see you out on the Mayhem Fest tour and good luck!!

Thanks!
Upcoming Tour Dates
Aug 11, 2013
Sep 13, 2013
More Tour Dates
Tags:
Anthrax , Joey Belladonna , interviews , dogs
Buy Anthrax Merch
|
Follow us on Twitter
|
Like Us
Date: Jun 26, 2012
As Reported by:
Keith Lovett