Bay Area Thrash "Titans" Testament Share Their Savage New "Creation" With the World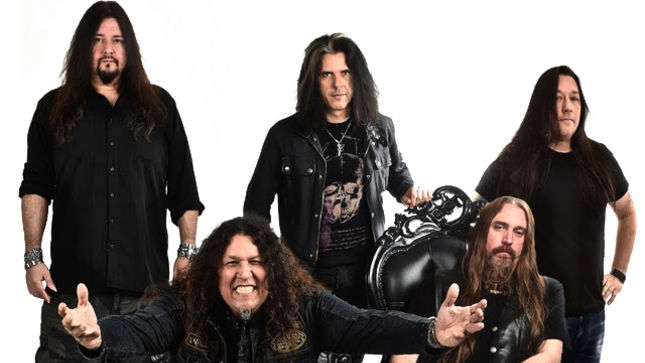 It was just about two months ago when the legendary Testament, the most popular band from the second wave of thrash metal, unleashed that magnificent first taste of their forthcoming record, "Titans of Creation". They did so with a song called "Night of the Witch", and it instantly made me excited for the rest of the material. After all, vocalist Chuck Billy bursts into the first verse with some of the angriest vocals I've ever heard from him!
A few short days after it was released, I attended my three-year-old nephew's birthday party, and saw a friend when I got there. He told me about how he was recently in the car with his family, and told them that he wanted them to listen to a song for me. I was super impressed to find that it was the new Testament cut. Although his wife was mortified and insisted that he turn it off after about 30 seconds, their little son apparently had his fist in the air during this first exposure to metal. At that moment, it felt like I had gained another nephew.
Now, the rest of the material is in my hands to get me through this indefinite period of house arrest. It's pure Testament, but not quite a pure thrash album. You'll find that it's just slightly less brutal than their 2016 effort, "Brotherhood of the Snake", and that it has a lot more mid-tempo songs than usual. While Testament may have shown their death metal side in the late '90s, you may have heard the promise of black metal influences this time. Yes, Chuck Billy does indeed deliver a few bestial black metal shrieks on the record.
"Children of the Next Level" seems like an odd choice for an opener as it sounds like a song that you'd expect to hear somewhere in the middle of the album. Nevertheless, it's a song where time-keeping mega-talent Gene "The Atomic Clock" Hoglan gets particularly creative behind the drum set. "WWIII" is a straight-forward crowd-pleasing thrash monster with some very impressive original lead guitar work. Even after years of perfecting his fretboard expertise, shredder Alex Skolnick keeps his solos sounding very fresh, but this is a particularly bright moment for him. They bring the tempo down a couple of notches for "City of Angels", a song which seems to be about serial killer Richard Ramirez. They keep things going at a slower pace for "Ishtars Gate", which does drag on for the last 35 seconds or so. Like the previous number, it has its most melodic moment in the pre-chorus and solos. Bassist Steve DiGiorgio's presence is very upfront, particularly in the verse, though. This tune, "Symptoms", and "Code of Hammurabi" show this is probably the most bass-focused album in their discography.
Kicking off the second side of the record, "Symptoms" is the best and most original of the mid-tempo trilogy of the middle of the album. One listen of the solo will make you happier than ever to have Gene and Alex performing in the same band. The band is wise to bring the speed back up on "False Prophet", which is just one example of a song that sounds familiar in some ways, but has fairly original ideas as well. The soloing gets a tad bit bluesy here, as it does on the next cut, "The Healers". "Curse of Osiris" fuses a couple of different metal genres very nicely. The second it kicks off you're excited for good old-fashioned Bay Area thrash metal, but the band throws a curveball with a vicious black metal chorus, and it works well. Closing cut "Catacombs" is a heavy, atmospheric, and apocalyptic two-minute instrumental that seems out of place as the album closer. It's not bad, it just would have made more sense to have used it as an intro track in my mind.
My favorite cuts on this twelfth Testament release would be "WWIII", "Symptoms", and "The Healers". Regardless of what past members you miss having in the line-up, who you feel is the best songwriter out of the band, what changes Chuck Billy has made with his vocals throughout Testament's career that you wish he used more often, whether you prefer the somewhat more commercial approach of albums like "Practice What You Preach" and "The Ritual" or just want to hear the band at their absolute heaviest, just put any skepticism you may have aside. At its core, this is a very Testament album, and that's the only selling point that you need. And as the story of my friend starting to play the song for his son proved, it's a great way for newcomers to get acquainted with the quintet.
**** out of 5
Read More News
Tags:
Testament, Thrash metal, Chuck Billy, Eric Peterson, Gene Hoglan



Nick Statuto

April 02, 2020


More News
Prog Power RED CAIN Shares Black Metal Influenced Single "Baltic Fleet"
BLOODY HAMMERS Releases Retro Sci-Fi Music Video for Eerie New Track "Not Of This Earth"
REPAID IN BLOOD Release Music Video for "Ritualistic Stoning"
TRAGEDY IN HOPE Releases New Single "Insomnious Autumnal Night"
THE AMENTA unveils new second single 'An Epoch Ellipsis'