CRO-MAGS Issues A Statement Following Stabbing Attack By Former Bassist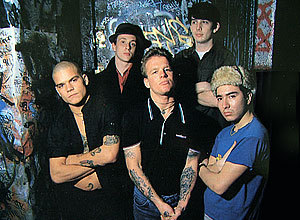 New York hardcore icons, the Cro-Mags have issued a statement commenting on the recent attack by former Cro-Mags bassist Harley Flanagan. Flagan entered the VIP room at CBGB Fest and attacked several people.

"WE... as a band are truly sorry for the way it all turned out in every regard even the ex-member who's family is now effected by his choices. Our prayers go out to them as well as Mike C., and the others who were hurt, but it was 'his' choice to come to our concert with a hunting knife, standing by our dressing door. Who knows what his actual intent was, obviously he wasn't there with it to cut bread for a peace offering as he was heard saying outside he was putting an end to us playing without him. Let's move on now & stop the trash-talking. Keep that PMA - that's what we are all about."
More Tour Dates
Tags:
Cro-Mags , Harley Flanagan
Buy Cro-Mags Merch
|
Follow us on Twitter
|
Like Us
Date: Jul 08, 2012
As Reported by:
Jason Fisher