EVERGREEN TERRACE Guitarist Leaves Band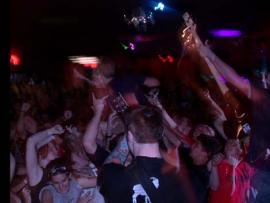 Founder and guitarist, Josh James, has announced that he will leave Evergreen Terrace to continue playing full time with Stick To Your Guns.

"In 1999, a few friends and I started Evergreen Terrace. The band has been a huge part of my life, but it's time for me to move on," James said. "Earlier this year, I joined Stick To Your Guns, and I couldn't be more stoked. It's been a natural and exciting progression for me. I really believe in the band and the message. Thanks to everyone who has supported me and Evergreen throughout the years. I'm leaving with some great memories. I wish ET the best of luck and hope to see you all at a STYG show."

Stick To Your Guns is currently finishing the All Starts Tour

8/22 - Atlanta, GA @ The Masquerade
8/23 - Metairie, LA @ The Cypress*
8/24 - Houston, TX @ House of Blues
8/25 - San Antonio, TX @ Backstage Live
8/26 - Dallas, TX @ The Palladium
8/27 - Mission, TX @ Pharr Events Center
8/28 - Midland, TX @ The Pine Box*
8/29 - Albuquerque, MN @ Launch Pad*
8/30 - Rancho Cucamonga, CA @ The Nitty Gritty*

*Non All Stars shows.
More Tour Dates
Tags:
Evergreen Terrace , Stick to your guns
Buy Evergreen Terrace Merch
|
Follow us on Twitter
|
Like Us
Date: Aug 22, 2012
As Reported by:
Jason Fisher