Ten Years Ago Today, We Lost DROWNING POOL's Dave Williams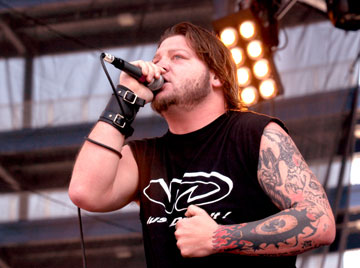 It has been ten years since metal lost a great frontman. On August 14, 2002, Williams passed away on the band's tour bus in Virginia while on Ozzfest. He died of an un-diagnosed disease of the heart muscle at 30 years of age. Williams was discovered by the tour manager in his bunk.

Drowning Pool's rise was unprecedented. They started out on the Ozzfest tour on the side stage and midway through got moved up to the main stage due to the huge buzz surrounding the band. The band as a collective - CJ, Dave, Stevie, and Mike - was able to connect with the fans.

"Whenever I think of Dave, it is all happy thoughts", states former Wind-Up Records and Drowning Pool publicist Steve Karas. "There are many levels of fame, but there are few that have the humility and the humanness of being a great guy. When Drowning Pool were first coming up, we called Dave the 'Mayor' and the 'luckiest fan with the microphone.' He was always approachable, kind and more giving to the fans than any artist I have encountered in twenty-five years."

Williams was buried with one of Dimebag Darrell's guitars on Aug 18 at a public funeral in Texas.
More Tour Dates
Tags:
Drowning Pool , Dave Williams , death
Buy Drowning Pool Merch
|
Follow us on Twitter
|
Like Us
Date: Aug 14, 2012
As Reported by:
Jason Fisher