Flyleaf show review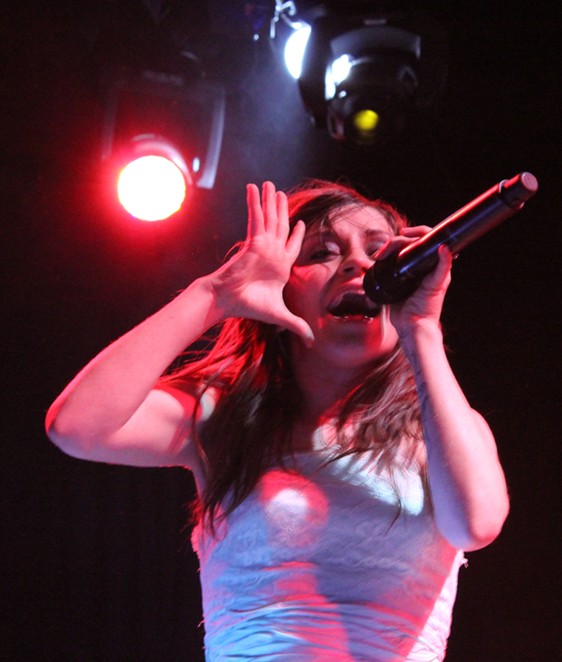 Our sprawling journey to Anaheim aptly interpreted the Latin phrase Memento Mori, which means "Be Mindful of Death," as a cautious heed to the exacerbation of crawling congestion. With this mental memento in mind, we took the path heavily traveled to unite with a cavalcade of southbound cars on I-5 to fight our way to the serenity of the OC. May the carpool lane expeditiously transport us to the salvation of Flyleaf amongst the shiny black Mau5 ears at The Happiest Place On Earth.
Fortunately, we descended upon mouse-town with ample time to imbibe in all that comprises the trolly lot of consumerism that is Downtown Disney. First up is the Jazz Kitchen so we can soak up some New Or-leans flavor. Wonder if they have a "Treme" inspired appetizer? They do. A credible live band colors the patrons' wine from red to sublime.
After watching the Lakers eek out a win against the Jazz, we head over to Naples for some 'za. Along the way, we pass a guy playing Metallica's "Nothing Else Matters" on the hammered dulcimer. Hmmm, Lacey quite often sings metaphorically about "Hammers". Curiosity took hold. "Know any Flyleaf? We'd love to hear you hammer out 'I'm So Sick". We were ready to elicit some impromptu karaoke. We would bill ourselves as The Dulcimer Duo. But, an ensuing quizzical look portended that it was not meant to be, not on either count. Thinly sliced pepperoni soon consoled our mild disappointment.
Right around this time, the arch of the evening dialed into focus and a revelation congealed. Beautiful Southern Californian evening? Check. Delicious over-priced cheese and meat wedges? Check. Hammered dulcimer caressing the night? Check. Anticipation of yet another momentous chapter of the revered Flyleaf chronicles? Check. Actually, check please. It's almost 10PM. We gotta rock.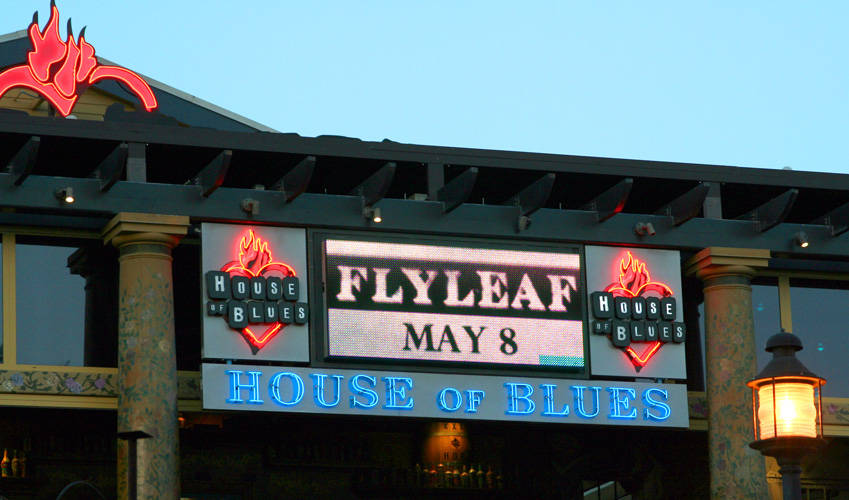 (photo by Frank Gatto)
IN THE DARK - There's only artificial light here. My flaws hide well here. I used to be afraid of cluttered noises 
Now I'm afraid of silence. Fill this space. Idle words.
We enter stage left. Lights dim as distortion severs the palpable white noise. The Flyleaf fivesome, predominantly draped in black, fill in the stage gaps. The conductor of this mission, in her requisite dress and ballet shoes, is in triumphant command as she voraciously delivers the "words" italicized above (it's eerie how literal these lyrics apply to this exact moment in time). The entire opening number bustles with road-tested determination and it's hard to imagine a better way to ignite a combustible engine. Ironically, or purposefully, as we're all singing about being "In The Dark," we actually begin to enter the light...of the leaf.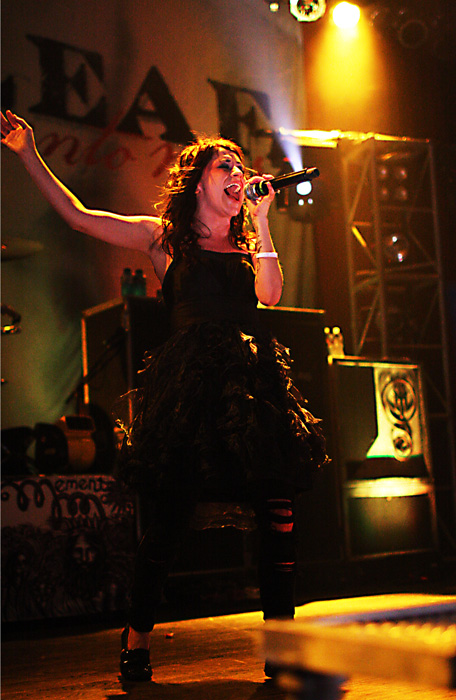 (photo by Frank Gatto)
BEAUTIFUL BRIDE - Unified diversity. Functioning as one body. Every part encouraged by the other. No one independent of another. You're irreplaceable, indispensable. You're incredible.
This song's message parallels the foundational thought behind the Disneyland attraction It's A Small World which features 400 brightly costumed dolls in the style of children of the world, frolicking in a spirit of international unity. Seems apropos then that this song is unfurled as the faithful frolic on the hallowed grounds of the beautiful bride that Walt Disney built.
And while the words to BB are about uniting humanity, I can't help but think that they also represent a sold-out-rock-show-mantra like never before. From the muscular opening riff, the crowd feverishly chants along and the sweaty densely-packed room thrusts with vibrant energy. The engine is revving at about 4000 RPMs. More rock 'n roll coal please.
AGAIN - Trying to find air to breathe again. And only surrender will help you now. The floodgates are breaking and pouring out. Here you are down on your knees.
'Again' also follows 'Beautiful Bride' on the Memento Mori album. It's the surreptitious yang seizing the sonic ying. Together, they form a bond to behold. Much Like Led Zep's 'Heartbreaker' and 'Living Loving Maid,' it's nearly sacrilegious to not hear 'Again,' again and again, as a musical digestif to the beautiful bride.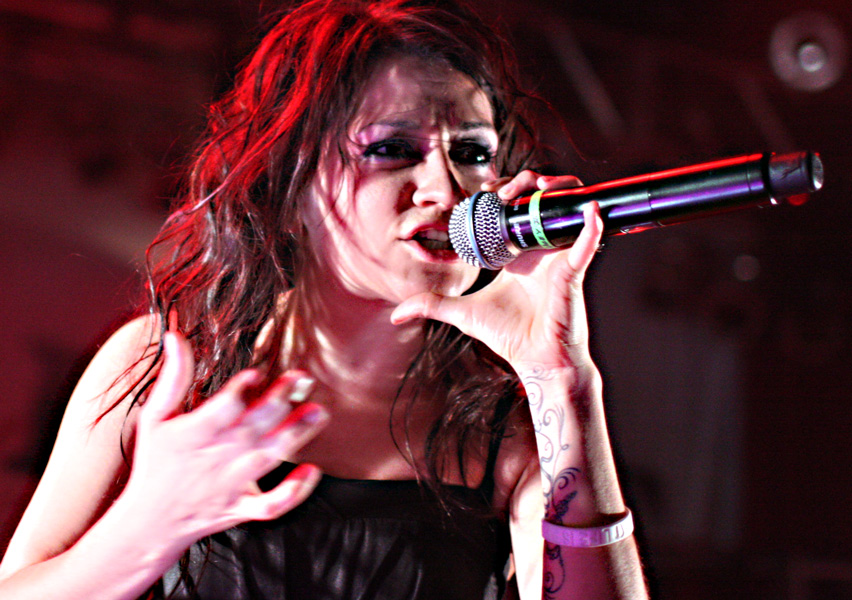 (photo by Andrew Phares)
CASSIE - All heads are bowed in silence. To remember her last sentence. She answered him knowing what would happen. Her last words still hanging in the air. In the air.
From being in the dark to hanging in the air, the calculated levitation continues as Flyleaf pulled the trigger and Cassie came charging out of the speakers. All heads, however, did not bow in silence but gyrated in convalescence. It was a very cathartic display of romp and circumstance though we're once again trying to find air to breathe again. Had I mistakenly surmised that sufficient air would be all around me?
ALL AROUND ME - The music makes me sway. The angels singing say we are alone with you. I am alone and they are too with you. I'm alive, I'm alive. I can feel you all around me. Thickening the air I'm breathing.
Even though it's clearly all around me, it has only just begun to seep within me. As I'm trying to find an heir to breathe again, the translucent exhilaration is thickening. It's musical molasses that swiftly dabs the stubble on my countenance with the seemingly elusive promise of a bountiful French moustache. Please give me something. I'm so thirsty, I'm so thirsty. Please pour me a pitcher of prescience to pamper my preoccupation.
CHASM - Break up already, Wake up now. Walk away, Take it all back now.
It's hot as Hades in here. Even the expressively dramatic twirly girl is feeling the heat as Lacey keeps reiterating over and over again that she's SO thirsty. Well, our collective thirst is quenched with this muted-chord shuffle, one that plods along like a majestic Middle-Eastern waltz. We sip. We sway.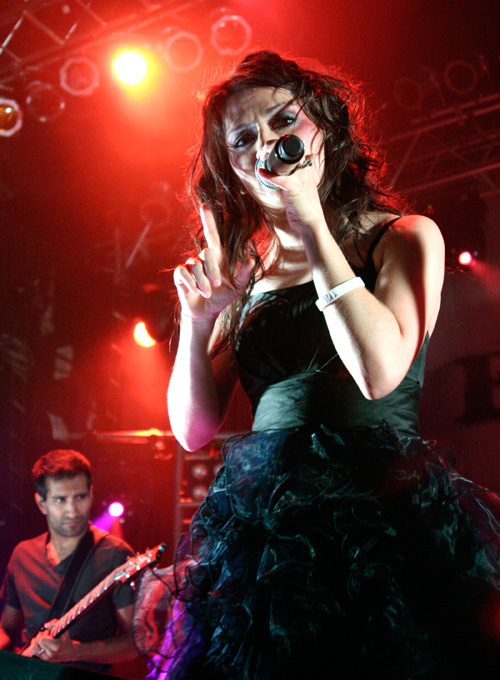 (photo by Frank Gatto)
SO I THOUGHT - A year goes by. And I can talk about it. The times were right. But I couldn't talk about it. Chorus romance says goodnight. Close your eyes and I'll close mine. Remember you, remember me.
The beginning notes remind me of Tesla's 'Love Song' and it might as well be because this is Flyleaf's version of a power ballad (Bic lighters have been replaced by mobile phones). When Lacey emotes "A Year Goes By," the audience virtually gathers round her with rapt unrestrained vocals that purge the remnants of troubles left behind. There is a devoted fan, front and center, with a text tattoo on her arm similar to Ms Sturm's that seems to be emotionally experiencing every word of this song as if her very existence depended on it. And then I notice another and another and before you know it, we all sing freely as Frank Hannon, I mean Sameer Bhattacharya unleashes a heavenly solo that unifies our diversity. Was I really witnessing the rebirth of the 80's power ballad in full effect in Downtown Disney? Kind of preposterous or so I thought.
THE KIND - And you know the truth. And I pray this is the last song I will sing to you. I'm sorry Father. I'm sorry sister. I'm sorry brother.
I hadn't seen the set list so I didn't know the exact truth but I felt pretty sure that this was not the last song Lacey would sing though I felt confident that we would not be surprised with the inclusion of any rarities or unusual cover songs as the band was intent, and proudly so, to showcase the majority of their brilliant new record. Therefore Tina & Red Sam, I'm Sorry, the warriors will not be There For You on this gilded evening so, unfortunately, you will not get the opportunity to Breathe Today as no set list can be Perfect. Who Am I you ask? I'm the Enemy. I'm Uncle Bobby, here to remind you that you can only move as fast as who's in front of you!
SORROW - Sorrow lasts through this night. I'll take this piece of you. And hold for all eternity. For just one second, I felt whole. As you flew right through me.
Lacey hit the disenfranchised sweet spot with the simplicity of "For Just One Second, I Felt Whole". Prayers; a human connection; crispy tater tots; SportsCenter; are all, to varying degrees, requisite means to a preferred, if only fleeting, end. Her words succinctly echo this sentiment in a way that soothes the soul.
THIS CLOSE - I had a dream that we were dead. But we pretended we still lived. With no regrets, we never bled. And we took everything life could give.
I had a dream that my 9-to-5 died and then I went to The Happiest Place On Earth to sing with friends and rejoice with strangers as cascading heavy hymns coursed through the veins that I feel deep within me. Hear it? I'm screaming it!
MISSING - Oh, something's Missing in me. I felt it deep within me.
My common sense may be missing in me as I've been debating whether or not to actually give space to the word 'Dewmocracy' because it is indicative of a larger "common" sense that is missing in America. But, for now, it exists. In fact, the aforementioned "word" is probably still visible on a conference room white board somewhere. Regardless, Flyleaf recently won a fan-supported vote tally and is reaping the rewards of airplay on AMTV. My common sense prevents me from espousing any further because...
SWEPT AWAY - Evil fell from your pretty mouth. Wrapped in your classic voice. Angelic in your syntax. Demonic in your motive. Your pretty eyes don't know that. The water flowing from this well isn't fresh…I rage against everything that you do.
…I couldn't have said it any better. Words (and searing feedback) to exorcise the lowest common denominator prefabricated corporate demons. Look at the healing come. A towering crescendo of distorted grace and it's all uniformly swept away.
SET APART THIS DREAM - You're a princess now. You own this world. Twirling in your twirly dress. You're the loveliest far above the rest.
While written with her younger sister in mind, Lacey embodies this dream every night on stage. One thousand of the Flyleaf faithful on this fateful night would agree. They would also all twirl in unison if not united in a spatial fight.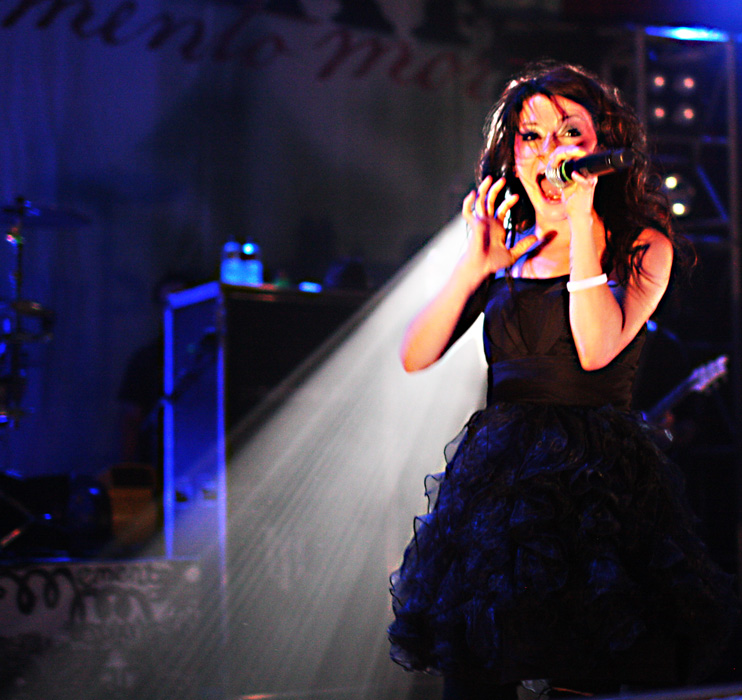 (photo by Frank Gatto)
I'M SO SICK - I'm so sick. I'm so sick. Hear it, I'm screaming it. You're heeding to it now. Hear it, I'm screaming it. You tremble at this sound. You sink into my clothes.
At long last, the double-barreled bottom of selfless bliss hikes up its skirt and exposes its anointed intentions once more. For those that haven't yet released their inhibitions to become fully alive; boisterously bellowing "I'm So Sick" is a guiding light.
My transformation of sick selfish bliss actually happened on a non-descript weekday in a very well-lit office complex a few years ago. Unbeknownst to me, I was about to be fiercely pelted with the utterance HEAR IT! I'M SCREAMING IT! It was Flyleaf ftw. Game over.
CIRCLE - Circle encircles the earth.
I fully appreciate the auspicious ascent of allegory, alliteration and assimilation that these first four words of this Encyclical entitled Circle provide. I'm elaborately envisioning the visual on a fly Flyleaf tee. Uhh, Pat, can you help a brother out?!?
FULLY ALIVE - Hammers fall on all the pieces. Two months in the cover creases.
This picture describes being Fully Alive about as Fully as possible...Reverend Seals is encircled.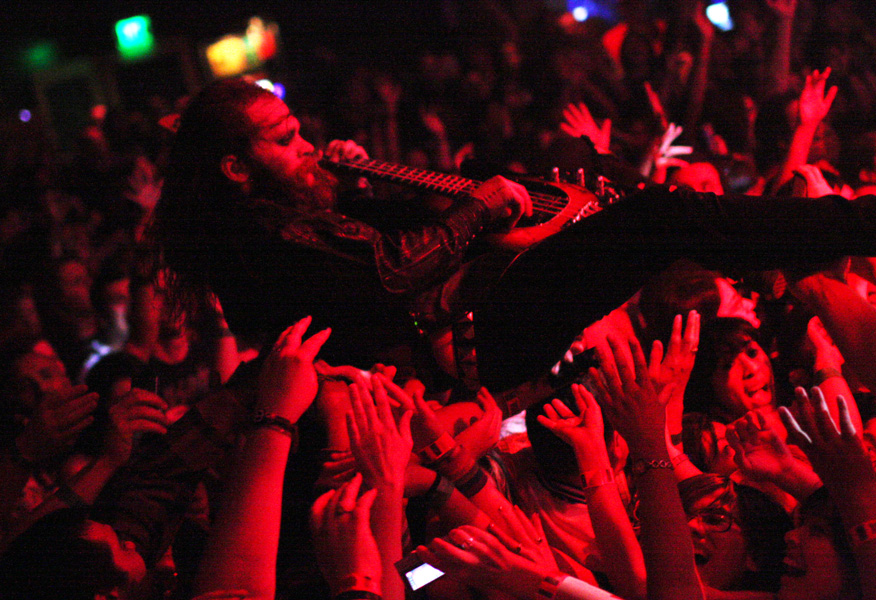 (photo by Frank Gatto)
ARISE - Hold on to the world we all remember fighting for. There's still strength left in us yet. Hold on to the world we all remember dying for. There's still hope left in it yet. Sing, sing. Arise. Arise and be. All that you dreamed.
After a perfunctory spoken preamble of modesty and encouragement, these tenacious Texans launch into a new world anthem that implies the plight to Arise, Unite & Fight.
HOW HE LOVES US - When all of a sudden, I am unaware of these afflictions eclipsed by glory. And I realize just how beautiful You are.
Unity expressed and solidarity intact, this tribute to the words of another is a cherished way to embrace the congregation with a sturdy cloak. Once again, as I've noticed at past performances, Lacey's spiritual essence visibly escalates when she belts out this cover song. It seems to comfort her like a mother embracing her precious child. She is fully alive with nothing to hide. And we are fully alive by her side as the sheer velocity of the downtown train begins to subside.
Eighteen wheels of steel etched into our psyches with surgical precision in a little over an hour. The Happiest Place On Earth? Check.
By Rob Evanoff
HOW I THANK THEM - With aplomb. Special thanks to Jason @TheGauntlet, Polly @HouseOfBlues, Doug @A&M/Octone, photogs Andrew Phares and Frank Gatto and to Heather for carving a crowd-parting path to the photo pit.
Read More News
Tags:
Flyleaf, show review, live, memento mori



Jason Fisher

June 03, 2010


More News
OSYRON Shares Venomous Music Video "Viper Queen" From Upcoming Album "Kingsbane: Deluxe Edition"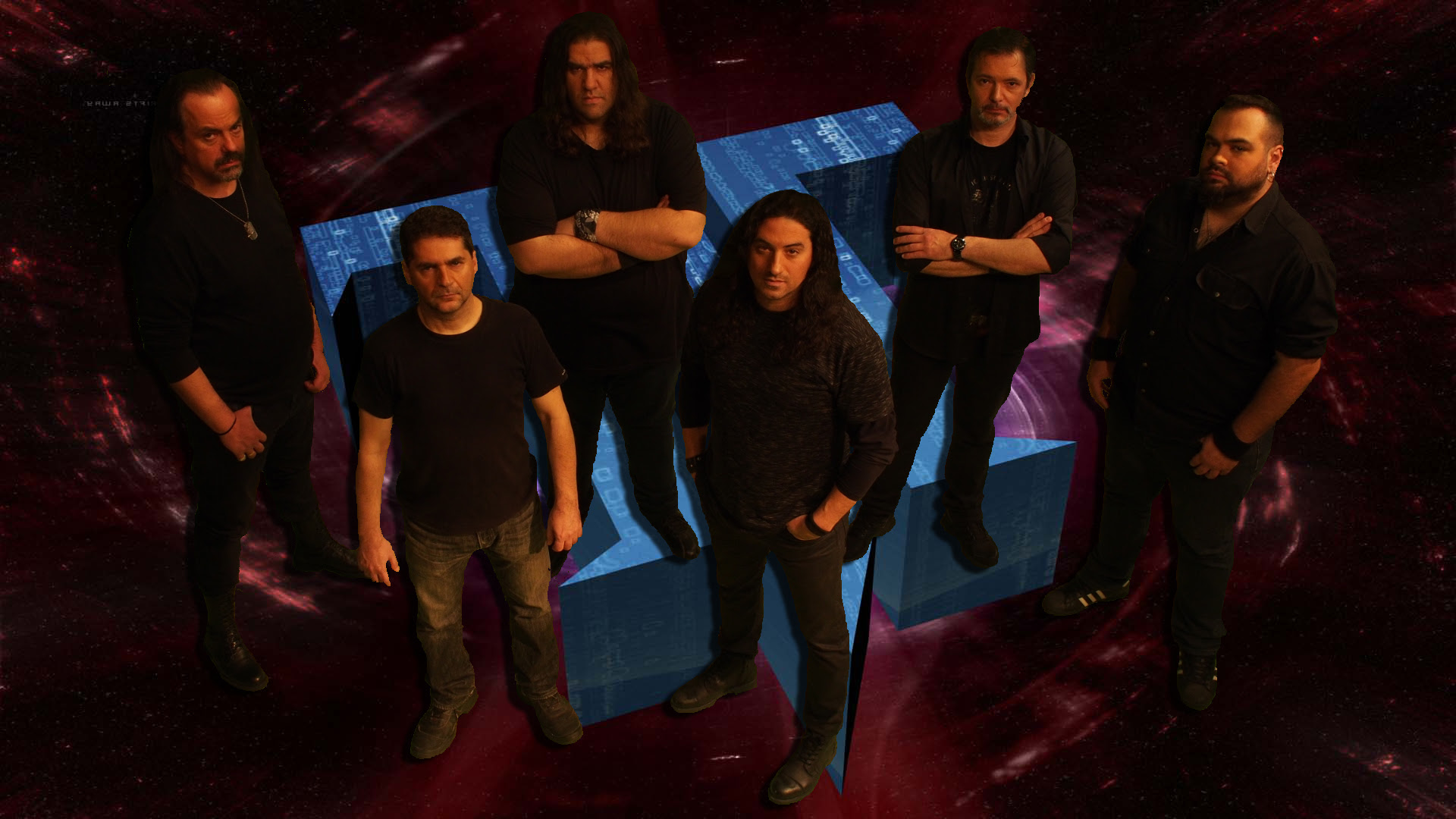 Greek Prog Power Illusory Shares "All Blood Red" Off Upcoming Album "Crimson Wreath"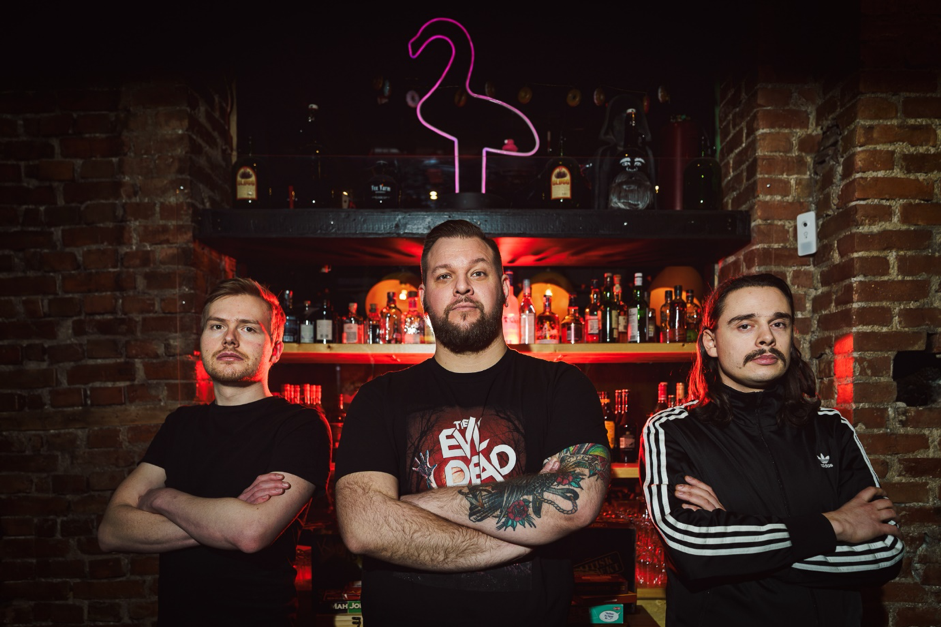 Norwegian Hard Rock Favorites BOKASSA Reveal New Single "So Long, Idiots!"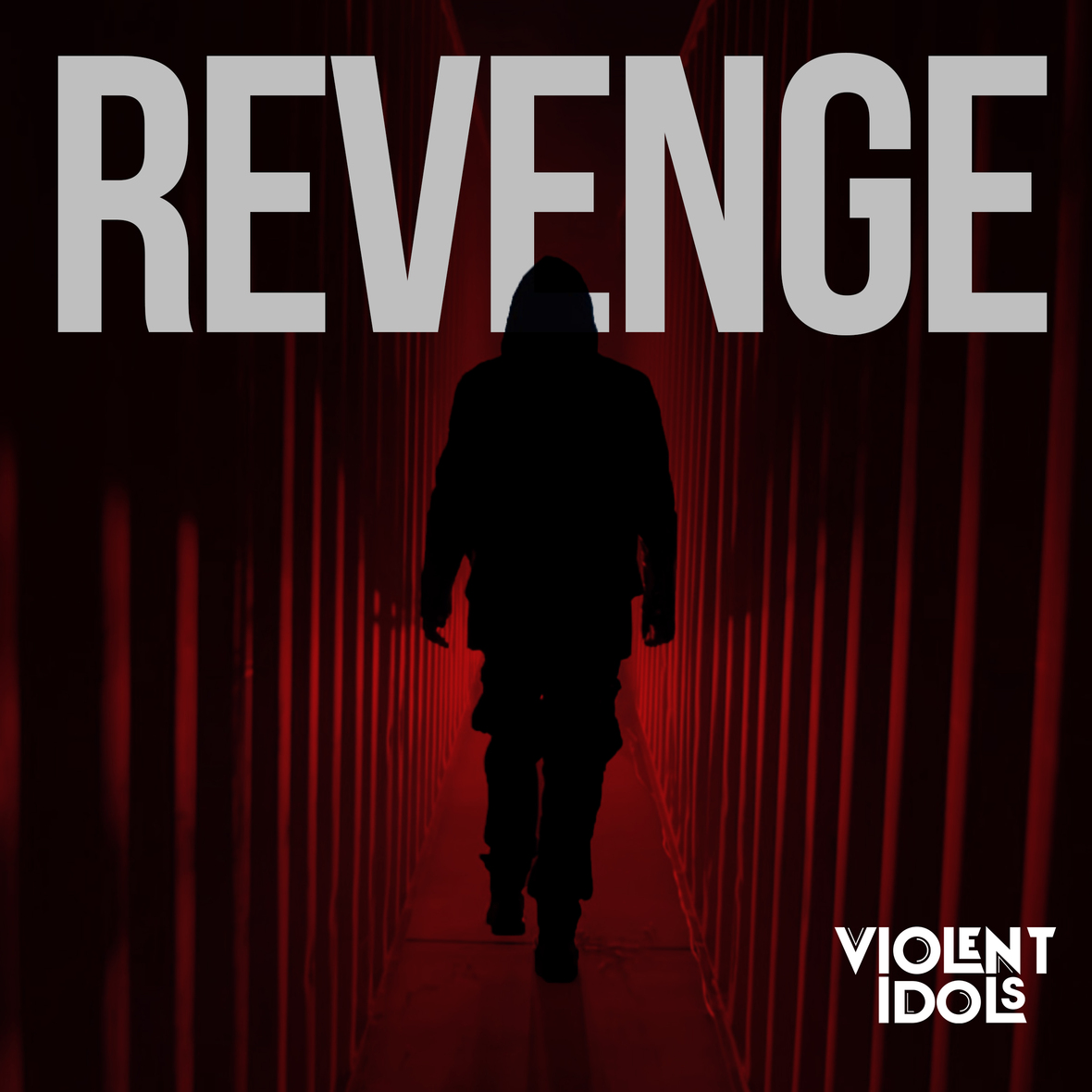 VIOLENT IDOLS Set to Wreak "REVENGE" in 2021!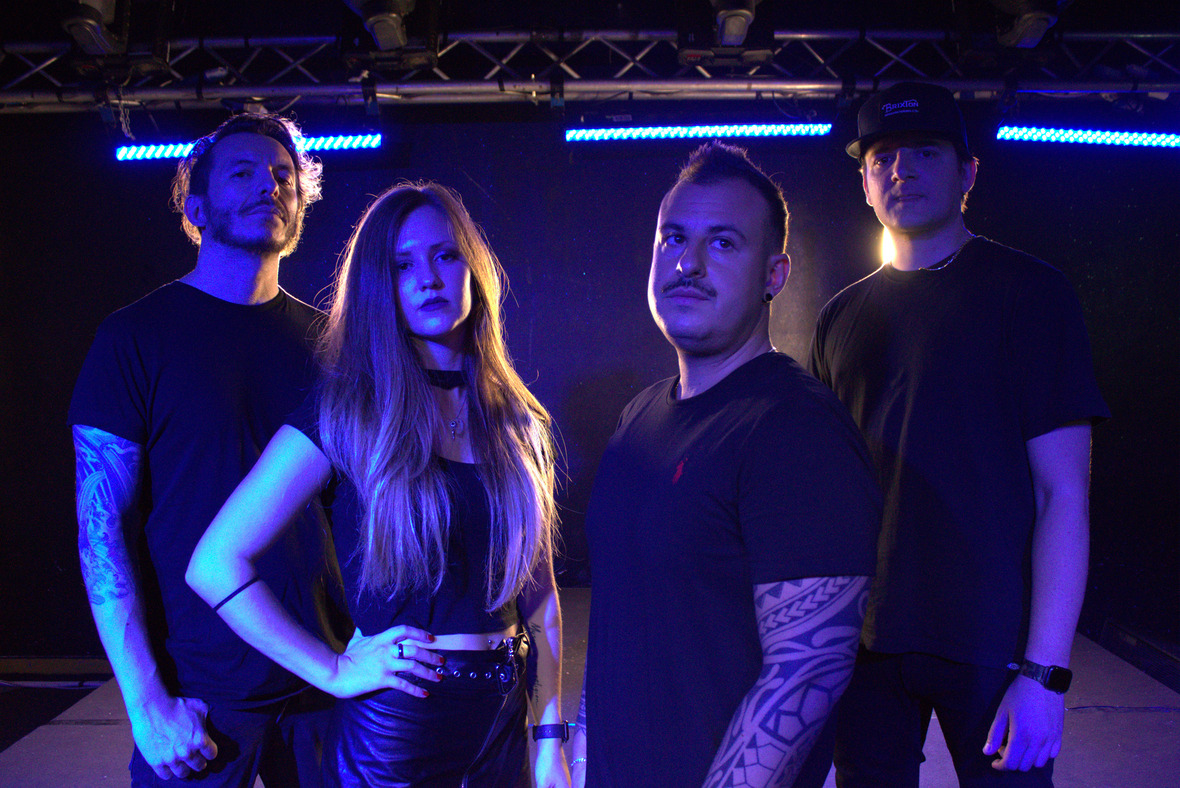 A CRIME CALLED Release Official Music Video for "Tidal Waves"