Death Thrashers MORTOR Announce Show Dates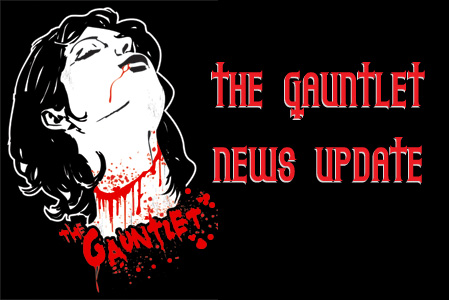 Canadian death thrashers MORTOR whom are gearing up for the release of their new album 'Shoot 'Em Up' on Tuesday, September 18th have announced they will be performing upcoming Ontario dates in Oshawa on Sept 8th for a back to school thrash bash alongside Dead 3 Days and will be local support for German thrash legends KREATOR and Finnish doom metal band Swallow The Sun on September 9th in their home town of Ottawa. Local fans will be able to get exclusive advance copies of MORTOR's new album at the show and are now offering a FREE DOWNLOAD of the first single 'Under The Flag' at the following location http://mortor.bandcamp.com/track/under-the-flag.

Under The Flag - Youtube embed link - http://www.youtube.com/watch?hl=en&v=rIMNAxvp_Sw

Album Trailer - http://www.youtube.com/watch?v=EtetidCaAds

MORTOR will also be performing a live set along with an interview tonight (Thursday, Aug 23rd) on CKCU 93.1FM's show Ottawa Live, which can also be heard online at http://www.ckcufm.com/.

Recorded at Garage Studios by Christian Donaldson (CRYPTOPSY, MYTHOSIS) and engineered by Mathieu Marcotte (AUGURY), Shoot 'Em Up includes 14 tracks of blistering speed, crushing riffs, and trademark catchy hooks and is the follow up to the band's 2010 gut wrenching annihilator 'Metal Ride'.

For more info and updates on Mortor please visit their official website at www.Mortor.net.

Music Video - Death From Above (2010) - http://www.youtube.com/watch?v=HQOYhSCttfA

Live Video - Swallow By Hate (2009) - http://www.youtube.com/watch?v=3JIm4-8hF18

Show Dates

September 8, 2012 - The Atria - Oshawa, ON w/ Dead 3 Days

September 9, 2012 - Mavericks - Ottawa, ON - w/ Kreator, Swallow The Sun, From The Deep


Track Listing - Mortor - Shoot 'Em Up
1. Intro 00:44
2. Under The Flag 03:00
3. Eat Lead 03:37
4. Shoot 'Em Up 03:00
5. Clusterfuck 03:24
6. Trigger Happy 02:41
7. Locked And Loaded 03:35
8. Infidels 03:51
9. Whiskey Surgery 03:59
10. For Glory 03:42
11. Days of Our Knives 03:55
12. Point Blank 03:29
13. The Bonesaw 04:20
14. Let's Deflagrate 04:05

BIO

Born from the creative mind of rhythm guitarist David Paquette, Mortor began as a solo project that soon turned into a full-fledged band following Paquette's move from Montreal to Ottawa.

Founded in 2008, Mortor began sculpting and fine-tuning their metal sound while writing and playing live shows with one goal in mind: to bombard the world of extreme metal with their fresh, raw sound.

Heading into the studio, the band's fervor while recording was only matched by the viciousness of their attack on the local thrash scene. The resulting album, Metal Ride, was unleashed onto a rowdy crowd during Rockfest 2010.

Following several blows, including the departure of two band members, Mortor have finally picked up where they left off with the most technical and powerful lineup to date.

The result of this re-emergence is the soon to be released Shoot 'Em Up, a record that sees the band pushing the limits they set for themselves on their debut album with the introduction of blistering drum work, catchy guitar hooks and thundering bass lines on top of their punishing brand of death metal and thrash.
More Tour Dates
Tags:
Mortor
Buy Mortor Merch
|
Follow us on Twitter
|
Like Us
Date: Aug 24, 2012
As Reported by:
Asher